In July 2017, the Environmental Working Group (EWG) published its database of pollutants found in American tap water, and updated it again in 2019 with data from 32 million state water records. The EWG Tap Water database reveals some pretty frightening stuff about the contaminants found in tap water across the United States, and should motivate all of us to get a hold of the best water filter system possible. Of course, there are many types of water filters, and as the EWG data shows, the best home water filter will be different depending on where you live. All these variables can make finding the best water filter system confusing.
That's why we took the incredible trove of data from EWG and used it to do our own research and create a handy guide for finding the best water filter system for your area. See, while the tap water database includes a very handy tool for looking up what's in your city's water supply, it makes it a bit hard to figure out what kind of filter works for your particular set of contaminants. That's where we come in. In this comprehensive guide on how to choose the best home water filter, we break down what contaminants are in your tap water, what health risks they pose, the different types of water filters, and the best water filter system for you.
Here's what you'll find in our water filter guide:
How we made our recommendations

Different contaminants and their risks

How to choose a filter

Types of water filters

Faucet Mount Filters for your Kitchen

Filters for Fridge

Pitchers Filters

Shower Water Purification Systems

Choosing the best water filter system for you

Additional resources
How We Made Our Water Filter Recommendations
We looked through the EWG's water filter guide to find products that are certified to filter out contaminants found in five major cities: Boston, Chicago, Los Angeles, New York City, and San Francisco. If you're in any of these metropolitan areas, this guide will help you make an informed choice about the best water filter system to buy. If you're not in one of these metropolitan areas, just look up your zip code in the EWG database to find out what contaminants are in your water, and then take a look at the water filter options laid out here to see which filter out the relevant toxins.
To make our recommendations for the best water filter system, we first looked at each city's results for contaminants detected above health guidelines. Note that there was quite a bit of overlap between the five cities (which may tell us something about city water more generally).
Then, we cross-referenced the EWG water filter guide to see which NSF International- or Water Quality Association-certified filters were certified for the contaminants. We found lists for three contaminants: chromium (hexavalent), arsenic, and total trihalomethanes (TTHMs). According to the EWG guide, if we didn't find the contaminant in their filter database, it's likely there isn't a certified product that filters it, or else it's not sold online.
Armed with this information, you should feel confident that you're choosing the best water filter system for your health. Now let's get into it.
Different Contaminants and Their Risks
The EWG report found a lot of different contaminants. Here are some of the major ones and why they could be dangerous to your health.
These carcinogens form during water treatment with chlorine and other disinfectants. According to EWG, there may be a link between disinfection byproducts and an increased risk of problems during pregnancy, including spontaneous miscarriage, cardiovascular defects, neural tube defects, and low birth weight.
Found in: Los Angeles, New York, Boston, Chicago, San Francisco
This carcinogen (made famous in "Erin Brokovich") may come from industrial pollutants or natural occurrences in mineral deposits and groundwater. It's been found in more than three-fourths of American water systems that supply more than two-thirds of the country.
Found in: Los Angeles, New York, Chicago, San Francisco
This naturally occurring mineral causes bladder, lung, and skin cancer, and can damage skin and lungs. It gets into drinking water from natural, industrial, and agricultural sources, and occurs at the highest levels in the Western states.
Found in: Los Angeles
The three contaminants listed above are the biggies, but the list doesn't stop there. Here's the complete rundown on other contaminants EWG found in the five major cities we focused on, and where they can be found:
Contaminants by City
Yikes, that's a long list of contaminants. Fortunately, you only have to worry about the contaminants in your specific water system. The first step in choosing the best home water filter is to zero in on which contaminants are present in your area. Here's a breakdown of what scary things may be in your water, based on where you live:
Boston
Total trihalomethanes (TTHMs)
Chicago
Chromium (hexavalent)

Hormones

Total trihalomethanes (TTHMs)
Los Angeles
New York
Total trihalomethanes (TTHMs)
San Francisco
Total trihalomethanes (TTHMs)

Chlorate
Types of Water Filters
The second step to choosing the best water filter system for you is to figure out what type of filter you want. To make this decision, you'll want to think about things like the layout of your kitchen or bathroom, and the ways that you and your family drink and use water. Here are the most common types of water filters you'll be able to choose from (you may also want to get more than one kind!):
Faucet Mount
This type of water filter makes it easy to safely use tap water. It attaches directly to the faucet and does its filtration there.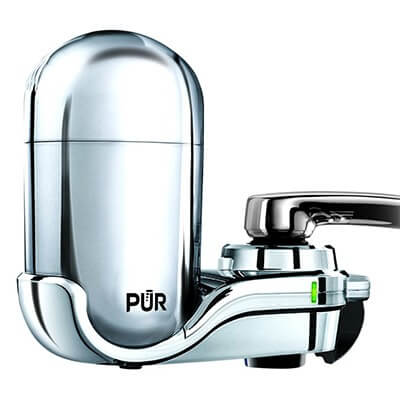 Refrigerator Filter
If you have a water dispenser on your refrigerator, this is a great way to be able to continue to use that feature without having to buy something else.
Pitcher Filter
Think of this as an upgraded version of the Brita filters we all had back in college. Pitcher filters let you filter water from the tap, then keep the ready-to-drink water on your countertop, in the fridge, or wherever is most convenient for you.
Separate Tap Filter
One of the fancier filter options, this type allows you to install a completely separate faucet in your sink, with a robust purification system in place.
Shower Filters
While you're not drinking water in your shower, you're still inhaling it through steam and absorbing it through your largest organ — your skin — which means whatever's in the water will make its way to your bloodstream. Shower filters remove chlorine, which is used as a disinfectant in water nearly everywhere. Chlorine has been linked to higher incidences of bladder, rectal, and breast cancers, and can interact with organic compounds in water to create trihalomethanes, which encourage free radical growth and damages cells.
Choosing the Best Water Filter System for You
Below are our recommendations for what water filter you should purchase based on where you live. To choose these products, we used the info about and then sifted through the options on Amazon to pick the ones with a high volume of reviews and the highest percentage of 5-star ratings.
Best Water Filters for Boston
If you live in Boston or the Boston metro area, your primary concern is likely filtering for TTHMs. The best home water filter choices for Boston are:
Faucet mount: PUR 3-Stage Advanced Faucet Water Filter, 7.7-Inch by 3.2-Inch, Chrome
Why: There were a number of options from PUR that were equally well-reviewed, but this had a lower price point. It installs directly on your faucet and can be used vertically or horizontally, which is especially useful if you have a smaller sink. It filters multiple contaminants.
Refrigerator filter: Frigidaire ULTRAWF Refrigerator Water Filter
Why: With the big caveat that you have to have a Frigidaire, and one that's a French door model, this product was well-reviewed and also filters other contaminants.
Best Water Filters for Chicago
If you live in the Chicago area, your primary concerns will be TTHMs and chromium. For the TTHMs, you can choose either of the filters listed above for Boston. For the chromium, we recommend the below two filters:
Pitcher Filter: ZeroWater 10 Cup Pitcher with Free TDS Meter (Total Dissolved Solids) – ZS-008
Why: We picked this option because it's partly made with stainless steel, which means less potential chemicals from plastic or microplastics leaching into your water, and is easy to clean. Yup, don't forget you need to wash your water pitchers!
Separate Tap Filter: EcoPure ECOP30 Reverse Osmosis Water Filter System – Built in USA – NSF Certified – Bottled Water Quality
Why: If you're willing and able to do the installation— which requires a separate hole on your countertop for the tap —this reverse osmosis system uses three stages to filter a number of different contaminants, including arsenic. You may be able to install it yourself, though some reviewers hired plumbers to help.
Best Water Filters for San Francisco:
If you live in the San Francisco Bay Area, you're relatively lucky, as most water systems that supply the Bay Area have two or fewer contaminants (in fact, one utility has ZERO! Congrats Presidio of San Francisco!). Still, most of the others contain TTHMs, which are definitely no bueno. Given that, check out our recommendations above for Boston, where TTHMs are also the primary concern.
Best Water Filters for New York
If you're a New Yorker (or in the greater New York metropolitan area), you're drinking the same contaminants as Chicagoans, so check out our recommendations for the best water filter system for Chicago.
Best Water Filters for Los Angeles
Unfortunately for you if you're an Angeleno, all of the big three contaminants — TTHMs, chromium, and arsenic — can be found in your water. Use any of the four products recommended above for TTHMs and chromium (Chicago and Boston), and for arsenic we recommend:
Separate Tap Filter: APEC Top Tier Supreme Certified High Flow 90 GPD Ultra Safe Reverse Osmosis Drinking Water Filter System (ULTIMATE RO-90)
Why: Like the EcoPure filter above, this requires an additional hole on your countertop and can be installed without professional help. Its' reverse osmosis system filters multiple contaminants, including chromium (hexavalent).
Shower Water Filters
Because all shower water purifications systems only filter out chlorine, your options are the same no matter where you live. Here are three choices that we've vetted and approved:
Culligan HSH-C135 Hand-Held Filtered Shower Head
Rainshow'r CQ-1000-NH Dechlorinating Shower Filter
GE GXSM01HWW Shower Filter System
Here's the complete EWG list of shower filters.
Additional Resources for Finding the Best Water Filter System
Above, we tried to distill a whole lot of information down into some clear, usable recommendations. But if you're eager to learn more and dive into some more details of the contaminants in your area and your water filter options, check out the resources below.
Distilling It All Down: The WellBe Takeaway
All of the above might seem pretty scary — but the good news is that knowing this information allows you to take control. Using the recommendations above, you're equipped to purchase the best water filter system to block the contaminants in your area and protect yourself and your family against any dangers in your water.
Care about removing toxins from your life? For researched, vetted, and WellBe-approved recommendations for water filters and 1,200 more products in 20 different categories, check out our Non-Toxic Products Lists database.
Arm your loved ones with the knowledge they need by sharing this article via the handy links below and at the top of the page!
Do you live somewhere besides the five cities we researched and need help finding the right water filter for you? Tell us in the comments below, we'll try to help!